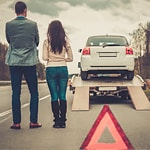 Most people will be involved in at least once car accident in their lifetime. This can be scary. However, there are a number of things that you can do in order to handle it. The first thing that you should do is check to see if anyone is injured. If you suspect that someone is hurt, then it is time for you to call 911.
If it is safe for you to move your car, then it is a good idea for you to do so. You will also need to exchange contact information with the other driver. Furthermore, you will need to let the police know about the accident. You will be able to file a police report, which you can use in order to submit a claim.
Let your insurance company know about the accident. You can make a trip to the dealership if it is time to test drive a new vehicle.