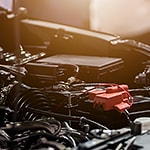 You need to understand how extreme temperatures can negatively impact your car battery. This includes extreme cold and hot temperatures that can impair battery performance.
In freezing wintertime weather, the temperature can impair battery efficiency by about 20%. This renders a battery less effective, a fact that can ultimately cause your battery to die and need a recharge. Your battery is also impacted by extreme high temperatures. A battery constantly exposed to temperatures in the 90s will last 50% less longer than one operated in 70-degree temperatures.
You need to routinely check your battery to ensure that it is in optimal condition. You also need to obtain regular routine service overall for your vehicle. The service pros at Lithia Medford Volkswagen are eager to assist you. Located conveniently in Medford, we can schedule a service appointment any time that fits your needs.