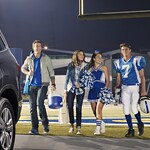 Choosing a car for your teen should be a joint effort. Talk to your teen about safety while driving while also getting a few ideas about the style your teen wants from a car. When you're in the car and driving through Medford, try to set a good example for your teen to follow, such as wearing a seat belt at all times and using equipment properly.
There are various types of technology that Lithia Medford Volkswagen can discuss with you after you get your teen a car. You can limit the speed on the vehicle and keep your teen from texting while driving. Alerts can be sent to your mobile device if your teen drives outside a certain area as well.
Try to keep your teen's car on the smaller side. This will limit the number of people who can fit inside, which can then decrease the distractions in the car.